NEW Exam Furniture range
We have large stocks of Folding Exam Desks and Chairs
Available for immediate dispatch: Built for Severe Contract use and Guaranteed for 5 Years, our exam furniture is easy to store and set up.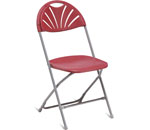 Globe folding chairs are recommended for ages 13+, with generously shaped Fan Backrest for improved comfort during prolonged use. Globe chairs fold flat for storage and will easily stack up to 40 chair high on our Flat Bed storage truck.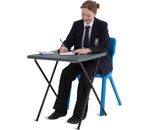 Titan lightweight exam desks feature Graffiti proof poly tops in Blue or Charcoal. 50% lighter than traditional exam tables, Titan is built to last and backed by a Ten Year Guarantee.